Saturday, February 16th, 2008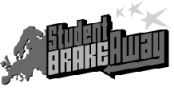 Hi there!
We are happy to announce that Team Curbs has signed up for the Student Brake Away 2008. Our team currently consists of 2 members:
Andy, Driver
Chris aka Captain Curbs, Driver
We have not yet decided which car we will bring to this event – we'll keep you up-to-date on that issue!
Other than that we're currently in the process of finding sponsors, so if you're interested feel free to contact us!
so long .. Cpt. Curbs