SBA 2008 Writeup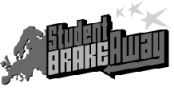 August 29 and 30
We started our longest stage of this year's SBA, stage number 0 from Graz to Dover on Friday, 9 pm. Once driven past the tight and winding Austrian motorways we made very good progress through Germany. We had to fill up only once, the weather was nearly perfect and we had only light traffic. After a small de-tour over Antwerpen we were lucky to catch the ferry departing at 10 a.m. at Dunkerque.
In Dover we immediately looked for something to eat and checked out the gathering place for Sunday.
After that we drove to our B&B and checked in.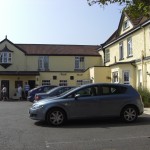 Next mission was a small walk down the cliffs to the sea.
Because we were driving all the night, we fell asleep very early
August 31
The day started with a rather english breakfast, fat sausages with bacon and scrambled eggs, but only one slice of bread. In Dover we met the others.
Registration for the event followed a short motivational speech from the head of the sba crew. After that we drove to the port and crossed the Channel.
Driving through France was ok till we hit Belgium, which was completely jammed around Gent, so we took a de-tour to avoid traffic. This resulted in us being even more stuck in the suburbs of Gent. We arrived rather late at about 8.45 pm.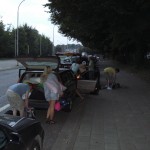 Antwerpen was not that good. At first there was a Mc Donald's but it closed in front of our eyes. So we went to the pub that was planned to meet the others. But this pub had nothing to eat. We had a fast Guinness and decided to eat French Fries (Belgian speciality!) with curry sausages. Then we headed back to the campsite as it started to rain.
September 1
The camp site was near the Antwerp Expo Center and surrounded by busy roads. All that noise from those roads woke us up, we packed our tent and sleeping bags and left Antwerp.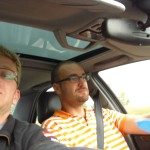 We had some traffic jams towards Brussels. Breakfast at a petrol station was quite expensive but they had a very good coffee. We headed towards Luxemburg and realized that we had no gps map for France.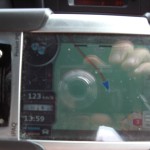 So we had to rely on the maps provided by the sba crew, which went fine. A few kilometers before entering Switzerland we had a nice and fast lunch at Mc Donald's. At about 4.30 pm we reached our destination at the campsite.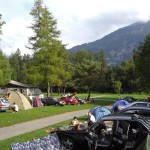 Only about 10 cars arrived earlier. In the evening we took the free shuttle bus to the village centre and ate a burger with french fries. After some beers we returned to our tent and slept quite early. The next day will be the hardest but nicest day of this year's sba.
September 2
We got up quite early and left at 7 a.m. because we really wanted to drive up the Stelvio Pass.
Breakfast was taken at a motorway petrol station. We also bought some food and filled up our tank. On the route to Stelvio there were a lot of steep roads and very nice scenery, the highest pass was 2300m above sea level.
At about 1:30 p.m. we reached the top of the Stelvio Pass.
We were stunned by the height and the splendid view. After a quick lunch we descended again. On the way to Meran where the motorway should start we met Daniele, a colleague of last year's SBA. He was waiting for more than one hour for another team but they didn't arrive in time. So he decided to join us on our way to Jesolo.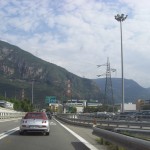 We did stop once because Daniele's Fiat needed a refill. We were really tired when we arrived in Jesolo after nearly 12 hours on the road.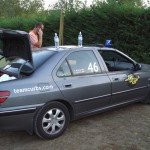 But still we wanted to go out. The club we went was very expensive. So we returned after some nice talking to other sba-people to our campsite and fell asleep.
September 3
No need to get up too early at this day. The idea was to stay in Jesolo as long as possible to be able to enjoy to beach and the sea. That was exactly what we did – so we went down to the beach into the sea and relaxed a bit. After a rather late lunch we challenged the german team in a table tennis match (Laferle) which we lost because it was just the 2 of us. About 2 and a half hours and some huge clouds of smoke from the polish BMW later we arrived at the campsite outside of Ljubljana.
The campsite was rather small so we had to camp right next to each other. The good thing was that we had access to electricity to charge our devices.  We had some wine and beer with the Germans and then took the shuttle bus to town. Quickly we found a MC Donalds and had a few burgers there – surprised by the low prices. After that we got to the club we were meant to meet – which was just not what we thought it would be. No locals, just the SBA guys, so we quickly left and after talking to a local guy we  went to the club ultra. It was probably the coolest club we ever visited :-).
After partying in the club we arrived at our campsite at about 4 in the morning.
September 4
Getting up not too early we had a small breakfast consisting of some cookies. Driving to Croatia was quite fun because of the mountainous roads and the perfect weather.
To our surprise the polish team took it easy .. so did we. After some navigational problems in Pula we arrived at the campsite. We were quite hungry , so we went to dinner with our german friends. At the restaurant we probably had the friendliest waitress we've ever met. She was so glad to meet us because she said the english people do not eat a lot and she doesn't like that – we left nothing back on our dishes. That's probably why we got a Schnaps for free :-). In the evening we prepared for the fancy dress night.
I helped out the german team with ideas for a fancy dress because they didn't really have one. In the evening we were ready, so we got into our racing suits and went to the summer club. As last year the fancy dress night was a highlight, there were Ninja Turtles, Beers, Bananas, Spartans and all kinds of other cool outfits.
We left that party rather late even though we were quite exhausted because of the hot racing suit ;-).
September 5
Last day of our journey. We had no hurry getting up too early in the morning since we had no driving to do today. Eventually we got up and had a nice breakfast which we bought in the local supermarket. The Germans and i decided to go for a swim on the northern side of the peninsula to avoid any contact with the jellyfish that were washed up at the southern side of the beach. At around 15.00 we decided to go to the restaurant to have lunch – which was again very delicate. After some hours of chilling an sleeping (in the car) we got ready for the final night. Dressed up with our teamshirts we roamed around the promenade eating pizza till we got back to summer club for the awards ceremony.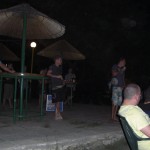 Coming back to our tent after some chilled hours in the summer club we found our tent vandalized – it was complete write-off. We were quite pissed and decided to talk to the crew the next day. After fixing the tent with tape we fell asleep.
September 6
The Journey home. Crawling out of the tent in the morning we discovered a dent on the car's roof as well. Even more pissed we talked to John, who pretty much said that we can't be helped. To speed things up we had a small breakfast in the restaurant and quickly raised camp. Saying goodby to our friends we left the scene.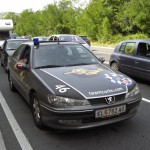 After a small traffic jam near the Croatian border we arrived in Graz in the late afternoon.